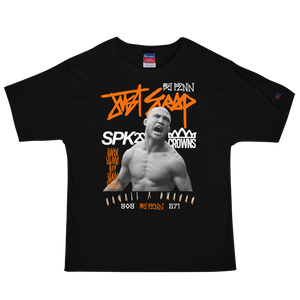 BJ PENN X SPK22 X CROWNS CHAMPION COLLAB TEE (ORANGE)
Regular price
$45.00
$0.00
TRIPLE THREAT SUPER COLLAB!!!! BJ PENN x SPK22 x CROWNS GUAM SCRAP COLLAB. WE BRING YOU YET ANOTHER SUPER BANGER COLLABORATION FROM THE ISLANDS.
BJ Penn and Melchor Manibusan's strong relationship goes deep, and we honored to be apart of such a huge collaboration. Along with Melchor's many wrestling accolades, one of his greatest achievements early on in career at the young age of only 19, Manibusan entered the Abu Dhabi Grappling Championships. This was the greatest platform for submission grappling, the Super Bowl of the sport. Manibusan, not even a white belt in Jiu Jitsu, had such a strong wrestling pedigree that would bring him all the way to the Semi-Finals against World Famous Royler Gracie of the Gracie family. Manibusan would finish 3rd place and held his own as a young wrestling underdog from the small island of Guam in a den of lions on the biggest grappling stage in the world. There he created strong ties with Charuto Verissimo who would later become BJ Penn's BJJ coach.
Now 2002. Manibusan was called upon by the Penn camp in 2002 by Charuto Verissimo for BJ's fight with Matt Serra. Manibusan, with a strong wrestling background and a similar body structure to Serra was the perfect partner for BJ to prepare for Serra.
Fast forward to 2004, Penn is now in line for his first UFC title against wrestling staple Matt Hughes. Penn and Manibusan would plan the camp and Penn's first UFC Championship title camp began in Guam, where he would visit Melchor in Tumon Bay, Guam. This is when and where the famous SPIKETAGON Cage was built. Guam's first octagon was built in Melchor's backyard and was the birthplace for the SPIKETAGON cage and the beginning of SPIKE 22 ACADEMY. So BJ Penn and Guam have super strong and deep history that is such a dope story to hear.
BJ PENN would visit Guam numerous times but his last visit and most recent was earlier this year was a secret visit kept under wraps to visit Melchor and long time Norifumi "Kid" Yamamoto to say his last goodbyes to Japanese Superstar and good friend "KID." Kid, BJ and Melchor spent Kids last moments here on the island and Guam could not be more honored to be the island where Norifumi decided to spend his last moments with Melchor. RIP KID!
BJ Penn has been every island boys favorite fighter since ever since. His "just scrap" mentality is truly an "Island way of life." Growing up in the islands isn't just sunshine and beaches.... but is also a pretty rough place for a boy to grow up. Growing up on an island... there is nowhere to run from anyone or any problems. It's a right of passage for a youngster to face his fears and scrap it out. However, unlike other parts of the world... the islands way of life of respect and hospitality also extends deeply into our livelihood as well as the streets. We believe in a fair fight a fair scrap. One on one. Two on two. But always fair. Cheap shit don't play here. Respect for the islands and respect for our people, enemies and family alike. Game recognize game.
BJ Penn is legend. Goat. He would scrap anyone... anytime... any weight. If you have to question BJ's greatness by his record... Than you didn't see BJ in his prime. Some people were taught to fight.... some people were extremely athletic for the fight game... but others... WERE BORN TO FIGHT. BJ was born to fight. And although his Brazilian Jiu Jitsu game was world class... BJ still always embraced his island roots and would "JUST SCRAP!" This meaning for islanders goes deep. It's not only a saying but an island way of life!!!!
Size guide
| | | | | | |
| --- | --- | --- | --- | --- | --- |
|   | S | M | L | XL | 2XL |
| Shirt Length (inches) | 26 | 28 1/2 | 30 1/2 | 31 1/2 | 32 1/2 |
| Shirt Width (inches) | 20 | 22 | 24 | 26 | 28 |
| Sleeve Length (From Center Back) (inches) | 18 3/4 | 19 3/4 | 20 3/4 | 22 | 23 1/4 |
---
Share this Product
---
More from this collection